DOCUMENTATION AND REQUIREMENTS
Citizens who wish to travel abroad require a new passport if:
They are applying for a U.S. passport for the first time.
They are under 16 years of age.
They were under the age of 16 when they received their first passport.
Their first passport was issued more than 15 years ago.
They have legally changed their name since receiving their previous U.S. passport, and they can't legally document the change of name.
Their passport has been stole, lost or damaged.
If one of these cases apply to you and you wish to apply for a new passport, you will need to gather the documentation and follow the application process outlined below.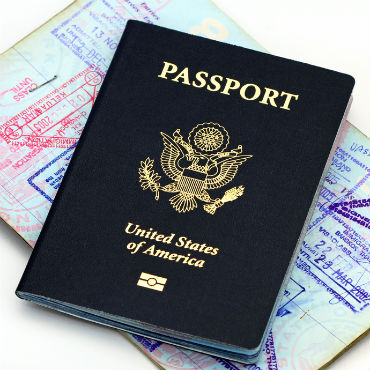 A DS-11 Application – completed and signed.
Two (2) passport photos No digital photos, Polaroids or personal pictures allowed. Do not wear hats, religious garb or anything military-related in your photos. You can upload a photo and we will print it for you. Photo printing service fee, $20.00. Upload photo here.
An Original Birth Certificate – original copy or a certified copy (seal must be raised) only. You will receive your birth certificate back with your new passport. Without a birth certificate, your application will not be processed.
A Copy of Your Travel Itinerary – typed with dates, times and flight numbers showing when you are scheduled to leave and return.
A Photocopy of Your Driver's License – or an identification card with name and photo. (If the application is for a minor, the parents can provide photocopies of their driver's licenses or state ID's.)
Signed Authorization Letter – Applicant must provide a letter authorizing Smart Visas and Passport Services to expedite documentation requirements on your behalf. Click the following link for a sample: Letter of Authorization.
Sealed Envelope Requirements: Bring all of the requirements listed above to the post office. (Check your post office to see if they have a Passport Agent on duty, and if they require an appointment for expediting passport applications.) Once at the post office, the Passport Agent will review your DS-11 application, make sure all your required paperwork is in order, and guide you through an Oath & Signature to verify your identity. The agent will enclose all your documentation inside a U.S. Postal envelope and seal it with an official US postal stamp.
SHIPPING INSTRUCTIONS
The outside of the sealed envelope (handed to you by the passport agent) should be clearly marked as follows:
Last Name, First Name
Date of Birth
Departure Date (if applicable)
Contact Phone Number
Note: If there is more than one application in the envelope (for multiple applicants), write out each applicants name and date of birth.
Applicant should place the sealed envelope from the passport agent (clearly marked as instructed above) together with the Smart Visas service fee (see below for a list of fees) and the attachments outlined below in a FEDEX envelope and send to Smart Visas and Passport Services:
Extra copy of travel itinerary
Extra copy of original signed Letter of Authorization (marked "EXTRA COPY")
Extra copy of completed passport application (signature not required)
Send your package (FEDEX ONLY) to Smart Visas and Passport Services together with a self-addressed envelope and prepaid return shipping label to:
Smart Visas and Passport Services
250 Park Avenue, suite 7028
New York, NY, 10177
(212) 572-6404
(212) 572-6405
US Passport Agency fees: Click here